festival
Iberian Mask
Back in Belém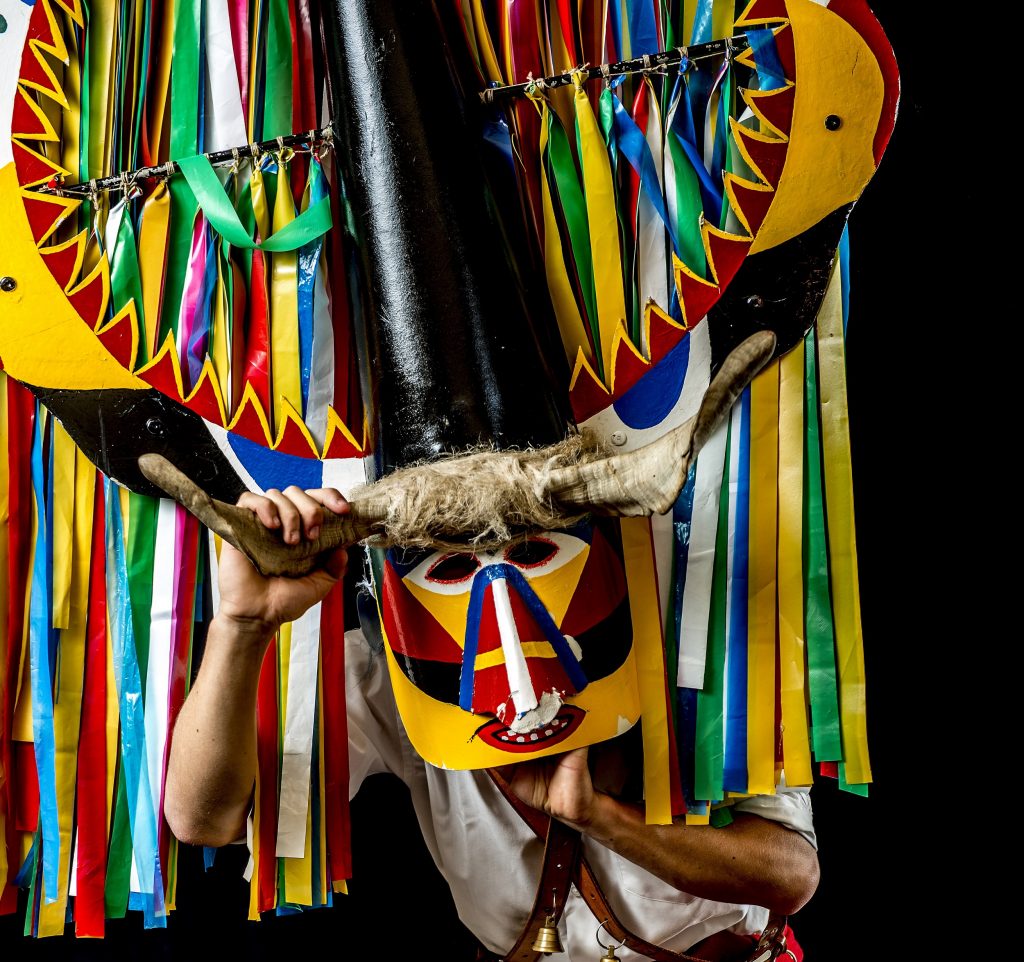 Lisbon has been hosting the International Mask Festival (FIMI) for the past 14 years. Organized by Progestur, EGEAC/Lisbon City Council, and Fundação Inatel, this year's FIMI will be held on May 16-19 in Praça do Império, Belém, and will feature about 50 masked groups and 700 performers. The highlight of the festival is the Grand Iberian Mask Parade (May 18 at 4.30 pm) which will fill the streets with colors and sounds that recall ancient stories and legends from the rural world.
The festival's masked men come from afar – from the north of the Iberian Peninsula, central Portugal, Italy, Hungary, Colombia, and Macao – to celebrate a tradition whose origins are lost in time, a time when men lived in harmony with nature. In Portugal, it is mostly in Trás-os-Montes that the memory of these ancient rites – celebrated during the Winter Festivities, which begin with the Winter Solstice (December 21) and run until Shrovetide – is kept alive. In these festivities, which merge pagan and Christian elements, masks take center stage. Behind them are men who in days of yore had to be single, thus replicating initiation rituals or ceremonies of purification, fertility, and fecundity. Nowadays, due to the exodus and aging of rural communities, rules have changed and all men can take part in these rituals. Dressed in colorful woolen costumes and terrifying masks – which, in some cases, are passed down from generation to generation – these men run through the streets to the sound of bagpipes and cowbells. They take on the role of otherworldly creatures who, in a complex world made up of rites, magic and symbolism, would purge the evils of the community. See them in all their splendor.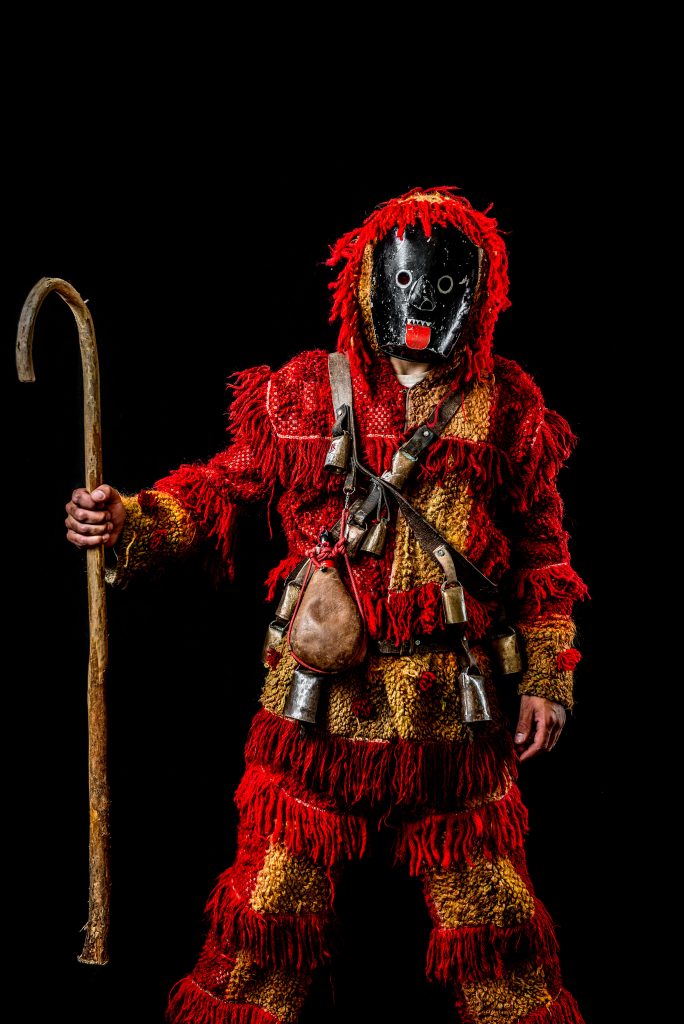 'Caretos' of Grijó (Bragança)
'Caretos' take the streets of Grijó da Parada during the Feasts of St. Stephen, the patron saint of boys (December 26-27). The rituals probably date back to the Celtic era, and are led by the 'King' and the 'Bishop'. With their bright, colorful woolen garments, where red predominates, and their brass masks with protruding tongues, they entertain the audience with shouts, jumps and the sound of cowbells, whose number varies according to the richness of the costume. They carry a staff that is used to discipline the audience and a pig bladder which, according to some scholars, suggests fecundity.
'Máscaros' of Vila Boa (Vinhais, Bragança)
Originally, they would take the streets on the occasion of the Feasts of St. Stephen.  Now it is during Mardi Gras that small groups of masked men 'attack' neighboring villages in search of their 'victims' – single girls. Known as 'cochalhadas' (from 'chocalhos', or 'cowbells'), these 'assaults' on women used to have a sexual purpose, associated with fecundation. For this reason, in days of yore, young girls would watch the festivities from the window, while married women would be barred from going out by their husbands.  Bedecked with fringes, the colorful woolen costumes of Vila Boa's 'Máscaros' contrast with their devilish masks, which are knife-carved out of chestnut wood or tinplate.
'Caretos' of Podence (Macedo de Cavaleiros)
They stand out for their red tinplate masks, tricolored woolen costumes (yellow, green, and red) and hood, which features a braid (the 'tip of the tail') that is used for whipping young girls. They brighten Podence's 'Entrudo Chocalheiro' ('Cowbell Shrovetide'), which is considered the most genuine in the country – hence the candidacy to UNESCO Intangible Heritage status in 2018. Characterized by banquets, masquerades and dances, these festivals – which correspond to the Roman Bacchanalia in March – celebrate the ancient connection with nature, agriculture and fertility.
'Cardadores' of Vale de Ílhavo (Ílhavo)
On Fat Sunday and Mardi Gras, 'Cardadores' ('Cardingers') emerge from everywhere, heralded by the deafening noise of the cowbells on their waist. As the name implies, this tradition is associated with the carding of wool, which is here transfigured into the 'carding' of girls. Preparations for the festival are made by men under great secrecy, evoking ancient initiation rituals. The costume consists of women's underwear, a 'tricana' scarf, socks, and sneakers. The mask, which is highly sophisticated and can weigh up to 5 kg, is made of cloth, cork, bovine mustaches, two bird wings, 'gazetas' (ribbons), and candle yarn. All wrapped in Tabu perfume.
'Caretos' of Lagoa (Mira)
Lagoa is the only place with 'caretos' in the municipality of Mira.  Their Mardi Gras parades are an ancient tradition, but its exact origin is unknown. Yet its connection with pagan initiation rituals into adulthood seems indisputable. Known as 'campinas', the painted masks of these 'caretos' are bedecked with animal horns and skin. They wear red skirts, which evoke sin, and a white shirt, symbolizing purity. They carry the mandatory cowbells in leather straps.
Los Carnavales de Villanueva de Valrojo (Zamora)
Due to its ancestry and originality, the Mardi Gras of Villanueva de Valrojo has attained great fame in the Spanish province of Zamora. The festivities evoke ancient pagan rites of purification and fertility. Masked men wearing colorful costumes and masks (made of plastic, cork or copper) chase girls through the streets with their long pincers.