sugestão
The choices of Luís Vieira and Rute Ribeiro
Six FIMFA moments not to be missed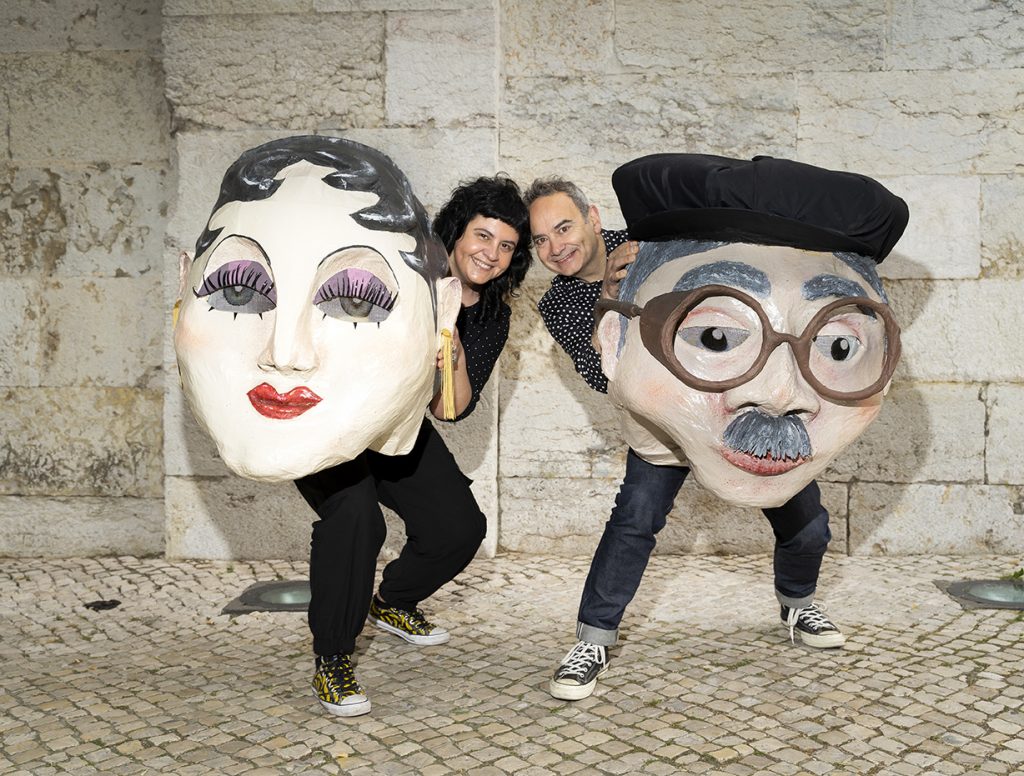 From 9th to 26th May, the most vibrant and creative proposals of the universe of puppets and animated forms are set in Lisbon. From Castelo de São Jorge to São Luiz Theater, from the Museum of Theater and Dance to LU.CA, passing through Teatro do Bairro or D. Maria II, two dozen street and stage shows, meetings with artists, workshops and a cinema session mark the 19th edition of FIMFA Lx - International Festival of Puppets and Animated Forms. Agenda Cultural was in conversation with the artistic directors of the festival, Luís Vieira and Rute Ribeiro, and it came to know which spectacles are absolutely not to be missed.
"Without a long-term partner like the Maria Matos Theater and with São Luiz celebrating 125 years, this entire edition of FIMFA was a huge challenge for us as programmers". Luís Vieira and Rute Ribeiro, directors of the Tarumba-Teatro de Marionetas, underline this conjuncture to explain much of what is the programming behind this edition of the most important puppet festival in Lisbon, which, almost celebrating 20 years, relies heavily on street shows, especially in Castelo de São Jorgea place that will be the stage of "an almost mini-festival" that will "have proposals that have never been possible to present at the festival".
Another great offer of this edition is a complete "radical programming", in the words of the couple, especially reserved for families. Lisbon now has a theater for children and a youth audience, the LU.CA – Luís de Camões Theater, and this opportunity could not be lost.
On the fringes of these axes, we challenged Luis Vieira and Rute Ribeiro to make the difficult choice of six spectacles considered as absolutely not to be missed in this 19th edition.
FIMFA Lx19 – Festival Internacional de Marionetas e Formas Animadas

★ Vem aí o FIMFA!! ★ #FIMFA Lx19 – Festival Internacional de Marionetas e Formas Animadas???International Festival of Puppetry and Animated Forms9 a 26 de Maio -9 to 26 May – #LisboaConsulte o programa em * Check out the programme: www.tarumba.ptEspaços de apresentação: CASTELO DE S. JORGE, São Luiz Teatro Municipal , @Teatro Nacional D. Maria II, @LU.CA – Teatro Luís de Camões , Teatro do Bairro, Teatro da Trindade, Teatro Taborda – Teatro da Garagem, @Museu de Lisboa – Palácio Pimenta, Cinemateca Portuguesa-Museu do Cinema, @Museu Nacional do Teatro e da DançaVídeo de / by Flúor#fimfa19 #fimfalx19 #fimfa2019#tarumba #marionetas #puppets #puppetry #puppetfestival #fimfalx #titeres #figurentheater #marionnettes #marioneta #atarumba #festival #Lisbon

Posted by A Tarumba Teatro Marionetas on Monday, 6 May 2019
---
Teatret Gruppe 38 (Denmark)
Teatro do Bairro, 10th to 12th May
A memory of Hans Christian Andersen. The audience will be greeted by two butlers and experience all the magic that 20 characters created by the Danish author offer around a table. It's an absolutely stunning show… Certainly, Hans Christian himself would be fascinated if he could watch it.
---
Cie Sacékripa (France)
Teatro Taborda, 10th to 12th May
It is almost a spectacle of a new miniature circus. Wordless, with lumps of sugar, a coffee machine or a cup of tea, Etienne Manceau will make us think about our lives, about our daily lives. A true gem in the programming of FIMFA.
---
Volker Gerling (Germany)
Teatro do Bairro, 14th and 15th June
Gerling is a German director and photographer who fell in love with flipbooks. The genesis of this show is in his itinerant journey through Germany, which the artist traveled furnished with flipbooks with his own photographs, which he showed as if it was an itinerant exhibition. From here, he has been photographing people and listening to stories, reproducing many of them in this award winning show that will make us laugh but also stir emotions.
---
Plexus Polaire (France/Norway)
Teatro do Bairro, 17th to 19th May
The work of the Plexus Polaire and its creator Yngvild Aspeli has been closely followed by us in recent years. On this return to FIMFA, Aspeli uses human-size puppets, video and live music to tell the story of Valerie Jean Solanas, the woman who tried to kill Andy Warhol. It's an amazing show, one of those which we can't miss because of the way it speaks to us, capable of transporting viewers to the golden years of Factory, Warhol's studio in Manhattan.
---
Operetta by Jacques Offenbach (Portugal)
São Luiz Teatro Municipal, 22nd to 25th May
This great production of São Luiz gives us a particular pride, since A Tarumba takes in the set design and the puppets. It is the comic operetta that inaugurated the Theater 125 years ago, and on the account of it we formed a team of collaborators, specialists in the most diverse areas. On stage there will be an almost full size donkey, Martin; an order box animated by dancers; Italian period paintings that come to life; and even a madonna coming down from the pulpit, and… it's better if we don't reveal anything else! In short, an entertaining operetta with well-defined "marionette" outlines.
---
La Bande Passante (France)
São Luiz Teatro Municipal, 25th and 26th May
It is a kind of documentary object theater. The authors bought a photo album at a flea market and decided to look for the stories of the people portrayed there. The interest about the family's journey back to the days of Nazism leads them to a work of theater archeology where research will confront the "investigators" themselves with their personal and family lives. It is an exciting journey, a fantastic trip to a world of others that is, inevitably, ours too.