Julian Opie
Never-before-seen works
18 may to 18 october 2020
Museu Coleção Berardo - Arte Moderna e Contemporânea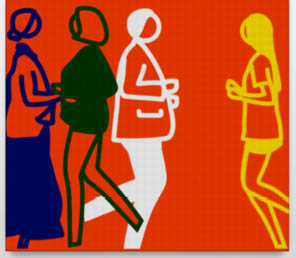 Julian Opie is a contemporary British artist known for the peculiarity of representation in his portraits, figures, and landscapes. In his works, the stylized representation of the people he portrays – painted in solid colors, with black, thick outlines for their facial features – offers a blend of pop art and minimalism with a thoroughly contemporary sensitivity.
This will be his first solo exhibition in Lisbon; to Opie, the opportunity to showcase his work in Museu Coleção Berardo's large rooms is as challenging as it is exciting.
The exhibition will focus on people, portrayed in various ways and with different materials – sometimes static, sometimes moving; sometimes painted, sometimes sculpted. It will also include some buildings and animals, so as to broaden the theme and expand on the subject. In the final room, Opie is planning to create a gigantic installation inspired by the beautiful Torre de Belém, which will evoke Portuguese Manueline architecture.
Monday to Sunday from 10 am to 7 pm (last admission: 6.30 pm)
Museu Berardo will only allow 190 visitors simultaneously; please check the list of required protective measures.
May 18: 3 pm, 4.30 pm, 6 pm
Free guided tour without appointment (max. 8 people)
Credits:
Curated by Julian Opie
5 € - entrada geral no museu (ver descontos)

Location: